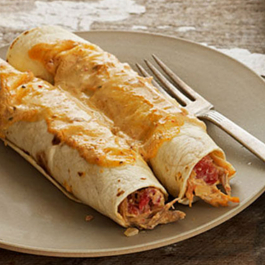 Courtesy of Kraft Kitchens
Servings: 6
Prep Time: 20 Min.
Cook Time: 20 Min.
* 1 tub (8 oz.) PHILADELPHIA Cream Cheese Spread
* 2 Tbsp. TACO BELLŪ Taco Seasoning Mix
* 2 Tbsp. milk
* 2 tsp. oil
* 1 small onion, chopped
* 3 c. shredded cooked chicken breasts
* 1 can (14.5 oz.) no-salt-added diced tomatoes, drained
* 3/4 c. KRAFT Mexican Style Shredded Four Cheese with a TOUCH OF PHILADELPHIA, divided
* 12 flour tortillas (6 inch)
1. Heat oven to 350°F.
2. Mix cream cheese spread, seasoning mix and milk until blended. Heat oil in large skillet on medium heat. Add onions; cook and stir 4 to 5 min. or until crisp-tender. Stir in chicken, tomatoes, and 1/2 cup each shredded cheese and cream cheese mixture.
3. Spoon about 1/3 cup chicken mixture down center of each tortilla; roll up. Place, seam sides down, in 13x9-inch baking dish sprayed with cooking spray; top with remaining cream cheese mixture and shredded cheese. Cover.
4. Bake 15 to 20 min. or until heated through.